It was never my intention to start retrospectively, but I have survived two months here in Paris, and with the Chambre of Commerce dawdling for one month over my application (having lost my electronic documents), it felt time to kick start my Paris in Photos website once more, now I am a full time resident here in France.
I would assume most expatriates who come to live in Paris, did so out of a romantic ideal and love for the city itself. They quite probably speak good French to boot. I can't really place myself in that category, although I have no objections to Paris itself, I just happen to not be a city-dweller in nature.
Having spent two and half years living in a town called Mossley, on the very outer rim of Great Manchester, bordering the Saddleworth Hills, stepping out of an apartment onto a long tree lined Parisian avenue is quite an alien experience. My year's worth of private French tuition (amounting to just one hour a week), placed me in little stead to comprehend and converse beyond the basics, although my realistic expectations hadn't been anticipating miracles. So why, might you ask, am I here? I wish I could concoct a reason beyond the usual clichés, but it involved a girl – a Parisian with anglophile proclivities.
Coming to France wasn't really too much of a logistical nightmare, it's really not all that far south of London after all. I'd taken quotes from three removal companies, and as I had previously lived by myself in furnished, rented accommodation, did not have a full household of possessions along with furniture to transport. Still, the quotes ranged from around £1000 – £1300 excluding VAT, so on a budget closer to £300 I hired a long-wheel based transit van, took along my Dad and girlfriend (who was briefly in England at the time), booked the Euro tunnel both ways, a hotel for the night in Abbeville (not so far from Calais), paid for fuel expenditure and a return flight to Paris three days later.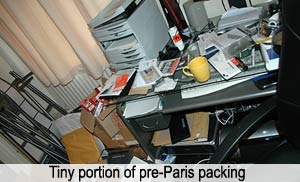 I collected the hire van on the Friday afternoon, and loaded up in the evening with the help of friends. Saturday morning, we set off, my Dad kindly offering to do the driving in the UK. Boarding the huge trains at the Eurotunnel was a bizarrely fun experience, and the system was fast and efficient. Normally reliant on map and compass, this was my first time using a Sat-nav, and as I took over the wheel for driving in France, Emily (the voice of the Sat-Nav), got us into Paris. This wasn't the first time I'd experienced Parisian drivers, but what made it unique was driving a large English van. When I came across the occasional broken down car on the side of the road, not one French driver would let me come across to get around the obstacle, so you have to drive quite aggressively to get anywhere. Nearing our destination after many weary hours on the road, a wrong turn took us off towards St. Cloud, and by the time I got back to the ring road, and to the 16th arrondissement, the daylight was beginning to fade.
Upon arrival, there was little chance but to park illegally. To get to the apartment we had to walk a few metres up the pavement, through a door, down a hallway, through another door, through a courtyard, through another door, up a flight of steps and then finally, viola. With someone constantly needing to keep an eye on the van, and some of the boxes weighing up to 40kg, it was long, tiring work, and quite dark by the time we'd finished. Although the district is rather nice, keeping an eye on the van was a wise precaution, as one disheveled man seemed to take a keen interest in the contents. A little later a man on a moped stopped directly behind me, turned off his lights, and sat there in the dark for no apparent reason. I picked up the metal pole of my computer desk, and the headlight came back on as he scootered off. Maybe I was just paranoid, but I had been living in a town where the night was ruled by chavs.
Grubby, exhausted, and with a hotel to check into, I kissed my girlfriend goodbye who was not in the best of moods since I'd destroyed her minimalist style of living and turned it into 'cardboard city'. I never planned to stay in Paris overnight, as I knew I would never get parked, which transpired to be a smart move. The hotel I booked was in Abbeville, somewhere between Calais and Paris – it was cheap, and I hadn't planned on sight-seeing. I arrived with my Dad close to 1am, and a machine in the foyer allowed us to get an electronic key for our room. At 1am we had tea (canned tuna as given to us by my girlfriend), and switched on the TV. Flicking through the first few stations, it may have been channel 4 or channel 6 when some close-up, penetrative hardcore sex started broadcasting through the screen. I'm by no means prudish, and I know Europeans to be more liberal with their TV content, but it still came as quite a surprise, and fortunately I had no children to tuck into bed and explain what carnal acts of the flesh had just passed  before their eyes.
The etap hotel was practical and cheap, but the bed linen was flimsy, with no spare sheets to be found. The shower room was the crudest I've seen with plastic lined interior and loo, seemingly moulded from one single sheet of plastic, and no possibility of putting anything in there so as to remain dry. The hotel might also have proved difficult to find if it wasn't for the navigational skills of Emily our Sat-nav.
The next morning we set off bright and early, with a full tank of diesel, which I must point out was no cheaper than British prices. The previous night we had been stuck on the autoroute with the van on fumes, the red light flashing, and the next service station 50km away! We made that mini adventure by the skin of our teeth. The Euro tunnel was not so kind on our return journey, and whilst my Dad did the equivalent of a supermarket sweep when our boarding letter was announced inside the duty free, by the time we had queued up, ready to board, we waited and waited and waited some more. Eventually there was an announcement regarding a problem with one of the trains, and so we missed our scheduled train and had to wait for the following one.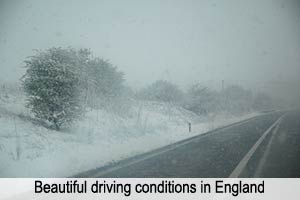 Whilst killing time the news reported snow back in England causing problems on the roads, which we lightly sniggered over, as a one millimetre covering is enough to bring England to its knees. Here on the French side of the channel it was blue skies and sunshine. Well the laugh was ultimately on us; I had not seen snow that heavy for a great many years. Although the photo does not convey the worst of it, the fast lane of the motorway soon became covered, and the landscape was thick with the white stuff, as the sky around us became ever more saturated by snowflakes. By the time we reached the Midlands, there were really no traces that the snow ever existed.
It may not be the best politically correct carbon footprinted mode of travel, but for £2.04 (just over £20 with tax included), it sure was a convenient means to return to Paris on the Tuesday afternoon. I could have returned on the Monday, but the flights were an extra £120. As I took the Roissy bus from Charles de Gaulle airport to Opera, we stopped at traffic lights, and a young attractive blonde with her boyfriend, pointed her camera at me. I looked left and right, but there was nobody but me on this part of the bus, so assumed they were browsing their photos. Ping, the flash went off, and they went on their way with little grins of amusement, and I, a self-conscious individual, became ever more so. And so it came to be that I arrived in Paris, complete with possessions, and with very little in the way of work. With a month to organise, prepare and wait for my French/English accountant to send my relevant paper work to the necessary authorities, one month soon became two. Now two months into my Parisian experience, I am still unable to create a company and work for profit until I have a SIRET number, and cannot open a French business bank account until this is done. I always read about the sort of nightmares other expatriates endured coming here, and now I come to experience it first-hand. Alas, I have little time for idle wordpress waffle, and so I must christen my very first wordpress entry (I am a wordpress virgin at this time of writing), and now my dear reader, you know why and how I came to be in Paris, I will keep updates of an Englishman's experiences in the French capital, if I do not inadvertently press the button that trashes my database. À bientôt