It seems those pesky space invaders won't leave me be. I walked to the end of my road this morning, the same walk I'd taken many a time, and I'll be damned if I didn't find another of the little mosaic freaks looking up at me with two sinister black hollowed square eyes.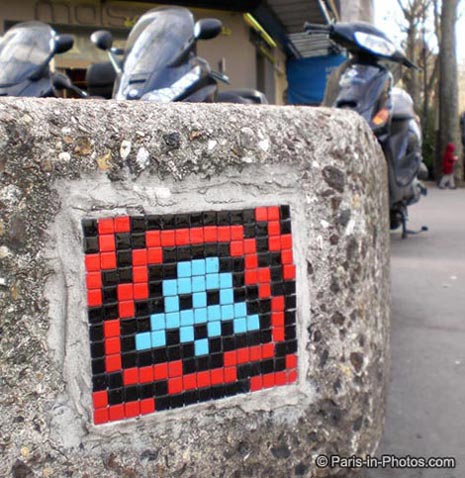 [April 16th 2009 Update] – This mosaic is no longer in existence. A couple of months ago I noticed two of the tiles missing, and now the entire thing has been removed.
Then just a minutes walk from the apartment I'll be monkey's uncle if there's not another on Rue Jasmin.

In the backdrop Mme Froggy's doctor was shaking her sheets clean from the balcony window.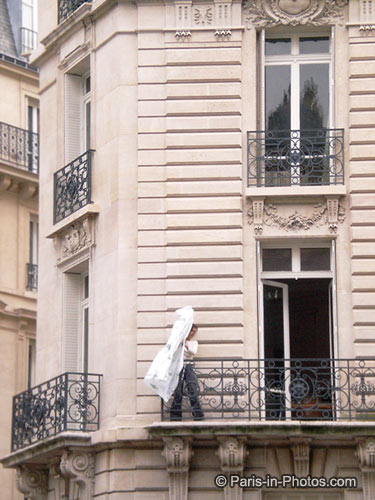 Unfortunately the little portable camera's LCD screen is still broken, so it's now a question of 'guess, point, click and hope' to see if the camera caught the subject. I decided to take just a few snapshots of some of the local architecture on my way home despite the grey skies and drizzle. We have some interesting buildings by Hector Guimard, but I'll save that for another entry.
Amongst the classic Parisian architecture is a whole mixture of styles; one day when the sun shineth I will have to go on walkabouts as the 16th district is full of foreign embassies and some of those are impressive alongside other gems tucked away off the main road.
On Rue Jasmin you can find this huge elaborate doorway which I'm told used to be the entrance to a former post office.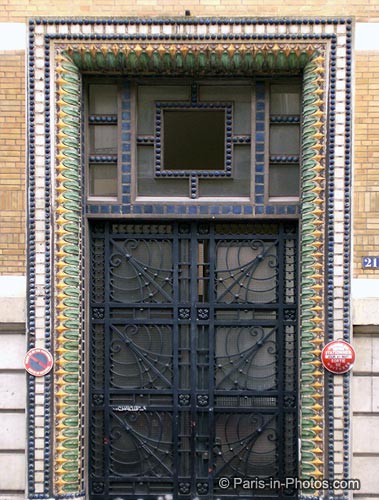 This is a red brick building (66 avenue Mozart) on my road which stands out in contrast to neighboring buildings, but still manages to fit in context with the street.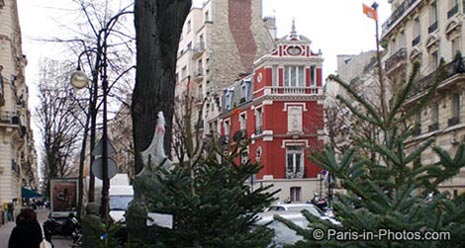 Alongside the Christmas trees a white lorry is often parked. If you're going to turn to the dark side and graffiti something, might as well do it in style.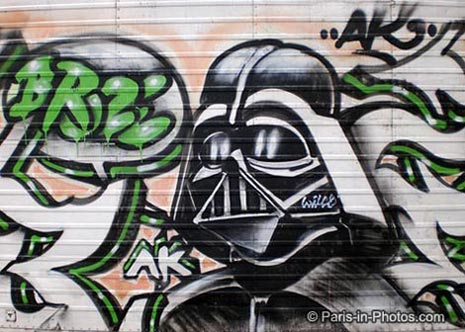 The stone built building is a style of architecture I don't see too often, but there are a few more examples scattered throughout Paris and in some of the suburbs.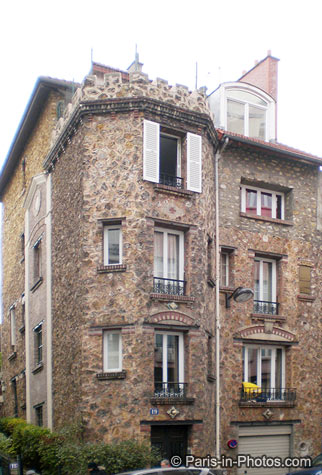 This is another building tucked around one of the side streets, which is different again but still suits Paris.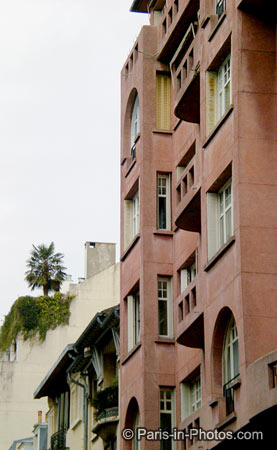 Back on the avenue Mozart, this corner facade is quite typical and very eloquant.