This is a catch up post. Mme. Grenouille is away in Switzerland and I thought it an opportune moment to update the Paris blog, although I cannot neglect my duty of renovating the kitchen units and door lest I face the infamous wrath of a Parisian unleashed.
Fur is back in fashion. You'll always see an old lady or two wearing fur in Paris anyway, but now it's everywhere you look. I peered through the window of a fur shop and these things don't come cheap; it's really just a showy flash of affluence for the older lady to try and gain one over her neighbour. I'll stay clear of any ethical debate, suffice to say if this were London those coats would probably come with a designer streak of white paint from a semi-militant animal protestor and the shops would undoubtedly look a little worse for wear with an arty graffiti streak or air conditioned, brick through the window job.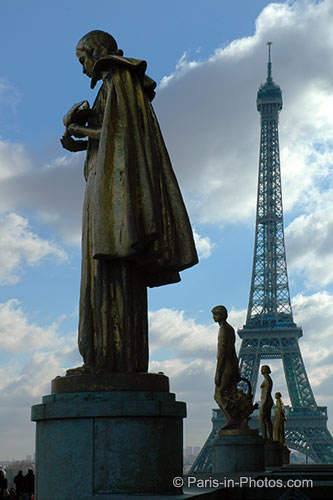 Last weekend I was walking around the top end of the district, and passed by Trocadéro and the Eiffel Tower. The irony is, now I live here I actually visit such places very infrequently and certainly less than when I came in my capacity as a tourist. I was very surprised by the number of visitors about, and maybe the rise of the dollar to the euro has prompted more Americans to pop over. There was a peaceful protest going on to say no dictatorship in Madagascar.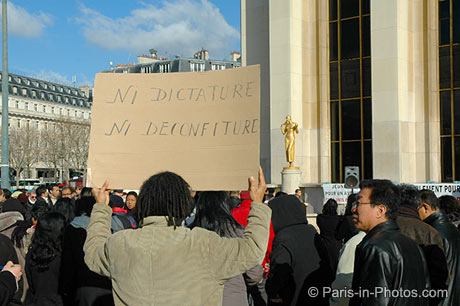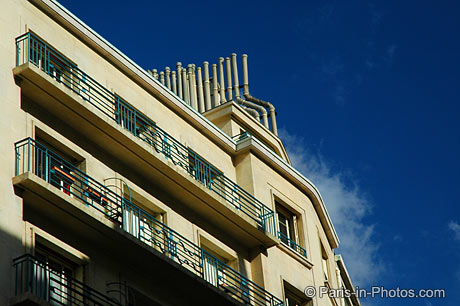 Building top close by to Trocadéro.
Wednesday gone, I went to Lidl to do a spot of grocery shopping. It was only recently we discovered there was a Lidl not a million miles from us so I have only been twice, and am wondering how I managed to miss this mini when I came down the road on my first visit. I also briefly caught the gloaming because when you're surrounded by tall buildings almost everywhere you go, sometimes you have to look to the skies for signs of nature. I do miss being able to see a horizon.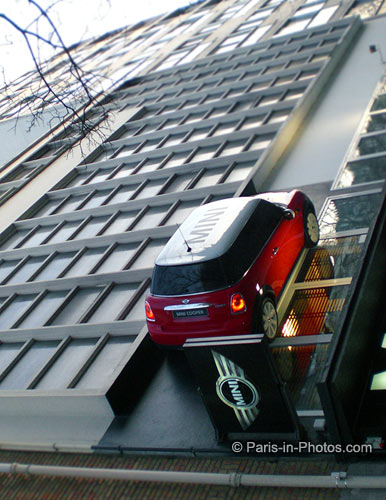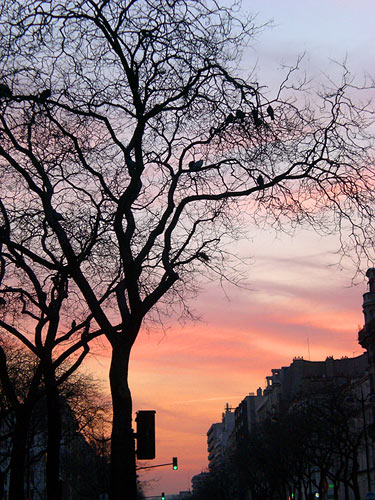 This is the Orève restaurant on 25 rue de la pompe, comprised of interesting mosaic walls and windows. Probably out of my price range for dining, but one of many interesting pieces of architecture within walking distance.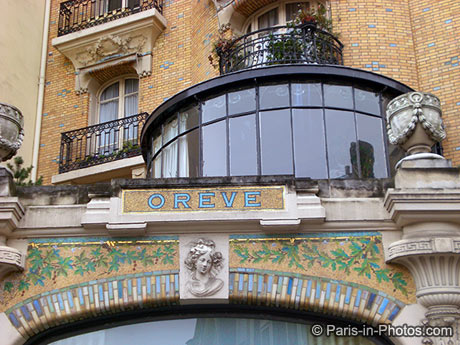 A couple of weeks ago we went to visit friends in the suburb of Bois-Colombes, which still has a lot of the Paris character (being very close to the city) and ironically they can probably get to the centre of Paris and places like Opera quicker than I can. To get to Bois-Colombes from inside Paris you have to go via the St. Lazare station which brings with it a real mix of character and people. Monet painted a few impressionist pieces of this place and I am always quite taken by this strange clock sculpture directly outside the entrance. It just needs a few droopy looking clocks to look Daliesque.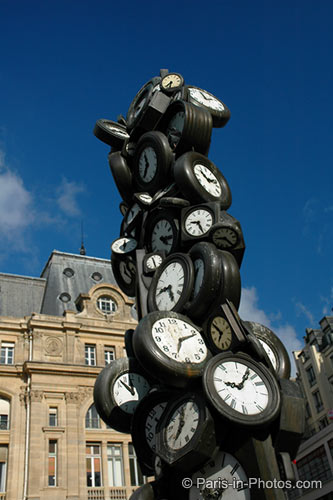 I'm still keeping an eye on the dog poo issues (it's hard not to if you want to keep clean footwear). A few people replied to that thread saying they had not experienced it in the same way. I may take a video camera and film one particular street very close to me that I take on my way to La Poste. It may just pass for the biggest turd infested street in Paris, and with no exaggeration there is something to avoid every one to two steps.
This also reminds me that I must do something about my excessively long shoelaces. I stood in Monoprix this week to buy some fruit juice and a well meaning Parisian pointed out how my laces were dragging over the floor and might trip me up. I thanked them for their warning but explained they were just extraordinary long laces and I was aware of my precarious situation in wearing them (I didn't quite use those exact words, I think it was more like 'Oui je sais, c'est trop long' followed by a shrug that said, what can you do, because my French is still very much work in progress). He then seemed inquisitive as to where I was from and thought I was Dutch, so I told him I was English so then he spoke a few words of English but possibly in the heaviest French accent I have ever heard. I continued to reply in French otherwise I'm never going to improve. The next till became available and he went to that one whilst I got held up by the women trying to replace the receipt till roll. He turned and apologised for going before me, which wasn't necessary because he couldn't have known I would be held up, but I thought hold on a second, here's a polite Parisian. Ordinarily people push into the queue and there's misery and impatience all around from the people at the checkout to the customers twitching and writhing in disquietude. A small gesture of goodwill is a notable event. Anyway back to my rambling point – if your shoelaces are too long, and the streets are paved in merde, it is not a good combination, but it is the same as dragging a heavy trolley back from the supermarket and then wheeling it into your house. Suddenly washing your hands whenever you return to your apartment is no longer the realm of the OCD sufferer, but a necessity in hygiene.
If I can randomly hop whilst on this free topic association lark, Mme. Grenouille is carrying a froggy/roast-bif hybrid due late July/early August. I figured just in case moving to Paris, trying to make a living and learning the language wasn't challenging enough, let's see how easy it will be to raise a bilingual baby in the city. That isn't really want I wanted to talk about, as the subject of other peoples' babies is boring to anyone other than the expecting parents (and you're probably thinking 'excessively long shoe laces' is a fascinating conversation?!) I wish to return to the lack of manners in city-dwelling folk, which I believe to be a true generalization of city's worldwide, it just so happens Paris is the only city I've happened to live in. You would think, or at least hope, that if you saw a very obviously pregnant, tired looking woman on a train or bus, that a kind soul would give up their seat. Earlier in the month Mme. Grenouille saw an even heavier pregnant lady get on the bus on her return from work, and as nobody was prepared to get up for her, she gave her, her own spot – a pregnant lady giving up a seat for another pregnant lady. Nobody batted an eyelid. The behavior is typical and it is very infrequent indeed that a young and healthy individual will use their legs to stand for the old, the frail or expecting mother. Our mutual Italian friend in Paris was on the bus recently with a very pregnant friend and kindly asked two young girls if one of them would mind if she could sit down. Their response was simply 'we have our problems too'.
When I think back to our holidays in Les Pyrénées last summer, the people are so open and friendly. Strangers in the supermarket would spark up a conversation; in the bank staff struck up a polite, 'hello, where are you from?' when I wasn't even a customer being served. Locals would talk to you when you stepped outside despite knowing you were only a tourist. Such behavior in Paris is met with the deepest of suspicions – why are they talking to me? What's their motivation – do they want money from me? Why are they wasting my precious time? I nearly ignored a person today in Passy until I did a double take and noticed they had a map and were simply looking for a particular metro stop. It's sad, but it hardly comes as any revelation. I had expected the city mentality to be such as it is, and it is what it is, lump it or leave it.
With all this said, there are nice people living in Paris, but generally you have to know them to scrape through the hard icy exterior and that takes time.
Well I can't stall kitchen renovations much longer now. We have a kitchen that is straight out of the 1960's. It is not a modern retro styled kitchen, it's the real deal and as such it's looking a little tired. The kitchen units were custom built in the 1960's to optimise as much space as possible as your typical Parisian kitchen is a little on the small side, ours being no exception. The cupboards start over five foot off the ground and go up about ten foot to the ceiling and we were led to believe they were made from high quality wood. After I peeled back the veneer it turned out whilst the frame was quality timber, the 12 doors were chipboard. My plans for painting them were severely compromised, but we bought some wood filler (enduit) and using my oil painting knives I have managed to create a smooth but firm surface for painting. If it's not a complete DIY disaster I may post some photos later, but how long it will take me to saw off the rusted hinges from the other unit is anyone's guess.
Just one more photo to share before I go. Mme. Grenouille's office looks down on the Arc de Triomphe so if I meet her for lunch or in the evening I usually stand around waiting idly at the Charles de Gaulle roundabout. I've never actually been inside it and up to the top; I'm sure I'll get around to it one day, but for now I generally watch the traffic amazed by the lack of collision and recalling my own attempts at driving here (I no longer own a car). I also remember coming to Paris when I was twelve years old, on a holiday with the school. None of us had noticed the underground passages to the centre, and so we crossed by foot in what can only be described as a insane game of frogger! If you're into high-adrenaline dangerous sports and pursuits, I highly recommend it.