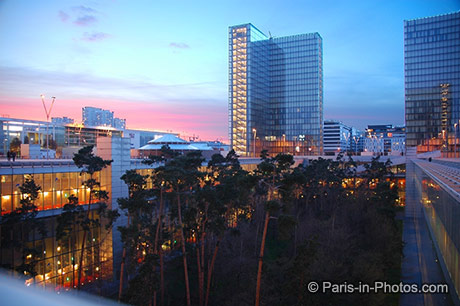 I feel like the larval butterfly emerging from its cacoon. On Sunday the windows of the apartment opened up and I could wear a t-shirt without fear of goosebumps. The sun found its way into the kitchen and as I feasted on wine, cheese, rice and vegetables with the sun nourishing my depleted levels of Vitamin D3. All seemed good in the world.
In the afternoon I went with Mme. Grenouille to meet her friend on the other side of Paris in the 12th district, next to Bercy park – a lot of big bands play here, including Metallica who are live in a fortnight's time; I failed to obtain tickets though. 🙁
Put two French chatterboxes together and they'll do more than just talk the hind legs off a donkey, the front legs soon disappear too. Asides from feeling like an odd sock it was a pleasant afternoon, and we managed to leave just as the sun was coming down. Unfortunately I had no tripod so just rested on whatever I could find, and had to rush as I was in company. This very modernist part of Paris was particularly interesting, although futurist architecture doesn't usually float my boat. The library as shown above, encircling a small pine wood, is a huge construction, I've not seen anything quite like it before. There were even chopped up logs down below, giving it the appearence of a managed wood in a surreal location. I'll reel off the photographs as unfortunately I don't have the luxury of time. I need to construct a new wardrobe from a flatpack job that arrived this morning.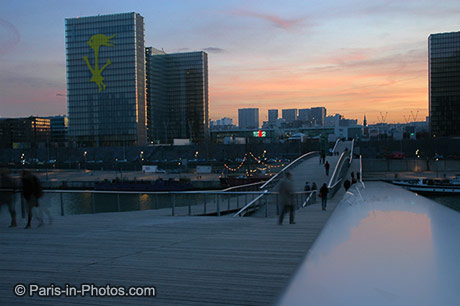 This interesting bridge is known as the Simone Beauvoir footbridge. I know this thanks to surfAnna who did a small article about it in February (Simone Beauvoir Bridge). Funnily enough she has my domain name but in French (paris-en-photos.fr) and posts far more regularly than I ever do, with interesting photos of architecture from all over the city.