The froggy/roast-bif made an appearance in early August, but not before Mum and Dad rode the ambulance out of Paris to St. Cloud hospital at 6:15am. I'll not rabbit on too much about Bébé Têtard (tadpole) as the subject of other peoples' babies is quite boring to all but the parents. You'll have to forgive one indulgent post, and I may post another about the experience of having a baby in France at a later date, as I'm sure it will be of some interest to other expatriates (it was a very positive experience). I also ask lenience on any grammar or spelling as I'm not quite firing on all four cylinders; feel free to tear apart my earlier posts though!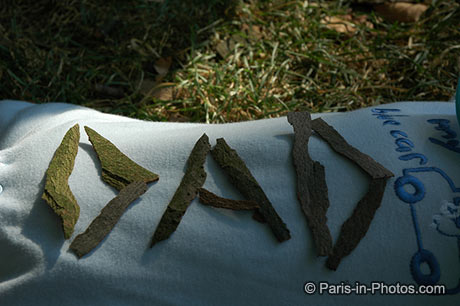 I guess life continues in more or less a similar vein, but a baby does cast a slightly different perspective to the city; mainly the ability to get around. A visit to Charles de Gaulle to see the pediatrician involved being crushed by the middle opening bus doors when the conductor allowed time for the pushchair, but not the father. The bus was already rather crammed when a second pushchair arrived, and then a third tried to board despite the driver playing the automated message to say, two pushchairs per bus (unless folded up), three times in a row. People might have been a little more understanding until they noticed an obese four year old, too heavy and old for the pushchair being stuffed full of crisps by the mother.
The metro is pretty filthy, so off limits to a newborn, therefore last weekend we invited friends over for lunch then took a stroll in the nearby park, Jardin du Ranelagh, which sits more or less nextdoor to Bois de Boulogne. I like this park as it has a few old fashioned features from the old Victorian styled swings that Mme. Grenouille used to play on as a child (no suggestion on my part that she's THAT old!), there are pony rides and an ancient merry-go-round where children are given a wooden pole to catch hoops as they go round, and the Eiffel Tower pokes out in the background. Aesop's Fable, 'the fox and the crow' is also brought to life with a rather enchanting sculpture.
We took to the shade of a tree and enjoyed some fresh air and warmth from the summer sun. The trees are already reaching their autumn potential, the seasons seemingly out of kilter.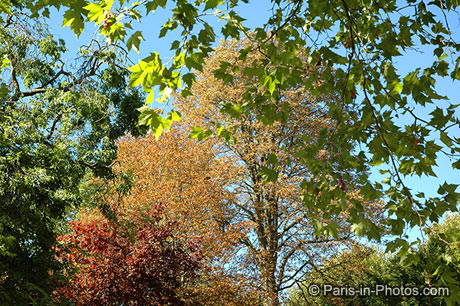 I spied a couple of earwigs – an insect I haven't seen for years – and I directed them towards our Parisian friend much to her horror, whilst explaining the name to her in English. Bébé Têtard spread out in our little circle sleeping soundly in the fresh air (earwig free I hasten to add). Whilst I may have missed out on a lot of the current summer, next year there will be a Bébé Têtard wanting to soak in sights and sounds.
When we split company and returned home, a very friendly middle-aged lady was in the courtyard outside the apartment and struck up a conversation mainly about babies and feeding. She even asked us what our names were (a very un-French thing to do) – she transpired to be actress Béatrice Romand, although neither of us were acquainted with her films. If there are any fans reading then you'll be pleased to know she is charming in actual life. She'd just bought a small apartment to renovate and rent out.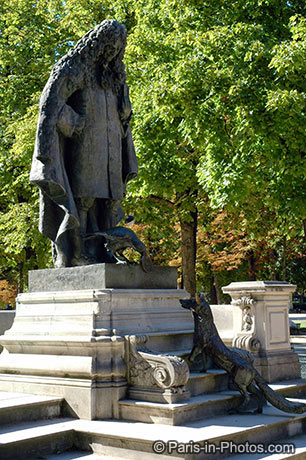 The Crow and The Fox

Master Crow sat on a tree,
Holding a cheese in his beak.
Master Fox was attracted by the odour,
And tried to attract him thus.
"Mister Crow, good day to you.
You are a handsome and good looking bird!
In truth, if your song is as beautiful as your plumage,
You are the Phoenix of this forest."
Hearing these words the Crow felt great joy,
And to demonstrate his beautiful voice,
He opened his mouth wide and let drop his prey.
The Fox seized it and said: "My good Sir,
Know that every flatterer,
Lives at the expense of those who take him seriously:
This is a lesson that is worth a cheese no doubt."
The Crow, embarrassed and confused,
Swore, though somewhat later, that he would never be
tricked thus again.
Le Corbeau et le Renard

Maître Corbeau, sur un arbre perché,
Tenait en son bec un fromage.
Maître Renard, par l'odeur alléché,
Lui tint à peu près ce langage :
"Hé ! bonjour, Monsieur du Corbeau.
Que vous êtes joli ! que vous me semblez beau !
Sans mentir, si votre ramage
Se rapporte à votre plumage,
Vous êtes le Phénix des hôtes de ces bois. "
A ces mots le Corbeau ne se sent pas de joie ;
Et pour montrer sa belle voix,
Il ouvre un large bec, laisse tomber sa proie.
Le Renard s'en saisit, et dit : "Mon bon Monsieur,
Apprenez que tout flatteur
Vit aux dépens de celui qui l'écoute :
Cette leçon vaut bien un fromage, sans doute. "
Le Corbeau, honteux et confus,
Jura, mais un peu tard, qu'on ne l'y prendrait plus.