Sunday congregation is not normally the pursuit of an apostate whose Sunday school preached that friends and family were most likely going to a very bad place with wailing and gnashing of teeth etc. etc. Never-the-less it was Sunday morning and we went to Notre Dame to see my girlfriend's gay opera singer friend perform during mass.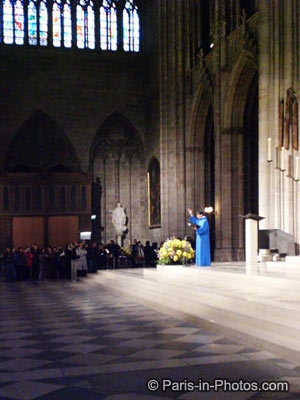 Notre Dame is not the most impressive interior of Paris' religious iconic buildings, but it certainly creates an atmosphere. With the dominating roof and lofty stained glass rose windows it's possible to appreciate the art segregated from the religion. After a few pious speeches (the same old, same old no matter what language it is spoken in) we got to hear the singing, which was very impressive especially with the ambience and acoustics Notre Dame offers.
After the cannibalistic symbolism of drinking Jesus' blood (I'm told this is extremely high quality wine) and dishing out rice paper as the body of Christ (some people allow this to be placed directly in their mouth, and others take it into their hands and then eat it), these most ancient of pre-Christian rituals concluded the morning. Hungry, I popped into Subway opposite and took a nice walk along the Seine, chewing on my baguette and taking in the last remaining drops of autumn colour. It was there that the little point and click camera that tucks away so conveniently in the pocket decided to get sick, so I may have the lug around the larger beast until it is fixed.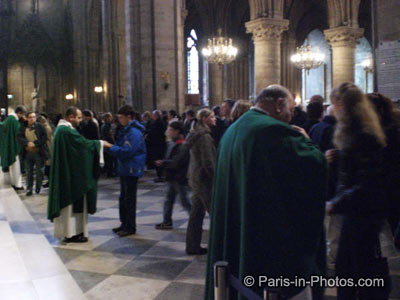 If you don't like the scores of crowds that summer brings, I certainly recommend an autumnal stay in Paris. When the sun shines, it is one of the most beautiful cities.