My posts have been so infrequent of late that I'm forced to come up with these ridiculous titles and then waffle on, skipping from topic to topic at tangents that would bamboozle even the greatest Mathematicians.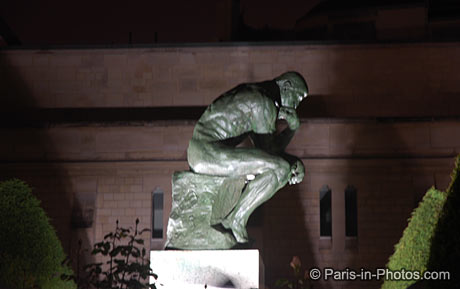 Following a weekend of kitten-sitting (being woken up at 2am with a cat walking over my face with the same indifference as walking on a concrete pavement), I took advantage of Saturday's free museum night (La nuit des musées). I hadn't yet visited Rodin's museum, and had Decartes' aphorism floating around in my mind – I think therefore I am (Je pense, donc je suis), which is a little like saying 'I breathe therefore I have a respiratory system', except Descartes makes it sound a lot cooler. I also carried with me the childhood memory of the famous 'Thinker' statue. It's actually the first one you notice as you enter the gardens, although the original statue is in fact only 70cm tall. As night crept in, they handed out free head torches to walk around the gardens. From the house you could watch dozens of lights move about like fireflies, lighting up sculptures with each random turn of the head. It wasn't so practical to turn around and talk to your friend without dazzling them like a rabbit in the headlights, and when I returned home at 11pm lighting up Mme. Grenouille (who was in bed and had stayed at home) with my new headlight toy, I soon found myself in the bad books.
My shoelace situation (described in another random post) hasn't improved. They were comedically long and forever dragging across the poo infested streets of Paris, so I went to Carrefour and bought a new pair… Not the smallest pair, but not the largest pair I could find either – 3,50 euros for some shoelaces (I do miss England for one or two things). Anyhow I've underestimated the size of my feet, and by the time I laced them up I can only just tie the daintiest of bows by using the tips of my fingers, so they now look even more ridiculous than before, but at least they can't drag through any dog's mess. With that said, two days ago I did notice, whilst in the metro, that a pigeon has plopped on one of them…
Yesterday I was coming back from the cinema (UGC have been showing films for 3 euros these past few days) on the metro and had to stand near the door. Near the adjacent door further along the carriage were a group of eight or nine year olds speaking in an Eastern bloc language (Albanian perhaps). I didn't pay it too much mind, but did think it weird they were unattended. Unbeknown to me at the time, a lady tried to warn some Japanese tourists who stood next to them that they weren't to be trusted. As the train stopped and the doors opened all I saw was a Japanese guy trying to force his way back onto the train as the doors started to close, and then the kids prying the door back open as they ran off. The guy's lens cap was lying on the floor and they'd obviously tried to make off with his camera. I think he'd jumped out to retrieve it before getting back inside. There were some kindly souls asking the family if they were okay – they smiled and I think they were a little embarrassed to have the attention of the carriage upon them. This happened at the Trocadero stop near the Eiffel Tower. I frequently see tourists with valuable cameras carried without concern, and whilst this is the first time I've witnessed anything untoward first-hand, it's not a very smart thing to do wherever you are in the world.
Now our froggy/roastbif hybrid is six months in development, we realised we weren't going to get a summer holiday this year, so at the end of April we spent a week in Madeira whilst the mother-in-law looked after the apartment.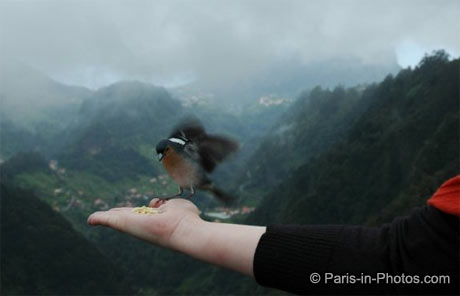 Feeding a Madeira Chaffinch
I hired a car and reckon I must have driven just about every road on the island; I certainly covered all the major ones following the coast and bisecting the island in several places. Imagine drinking a cold beer on a hot day with mountain and sea views for 1 euro, or eating fresh fish with plenty of side dishes for 8 euros, having an entire restaurant floor to yourself with panoramic sea views as far as the eye can see. It was really quite grim coming back to Paris when the holidays finished, and I required a little adjustment.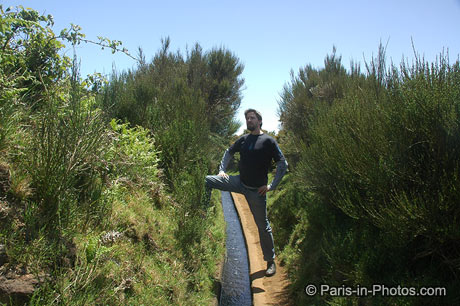 The brave and noble explorer, charting unknown territory.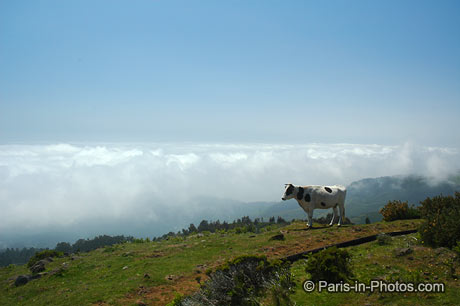 Discovery of a never seen before Madeiran cow… Actually this one was quite aggressive and it took a while to get around it to follow the Levada. Six month pregnant Mme. Grenouille took some convincing that we weren't going to be mauled to death.
Driving out of the tourist spots sometimes takes you to areas where you think you've stepped back a hundred years in time. With woman carrying large bags on their heads and old men cutting down sugarcane, or attending to banana plantations (actually it was largely the women attending to the crops), dressed in mucky rags. Many walk the long steep hills to get from place to place, and they stare intently at you. Even as we passed by, I'd watch in the rear view mirror and their heads would turn and their gaze would follow the vehicle until I'd driven out of sight. This also happened on occasion when we walked about places like Seixial, although occasionally Mme. Grenouille smiled and would greet them in Portuguese and then the deadly stare would break into a smile and a friendly wave or nod, so I guess it's just a Portuguese thing.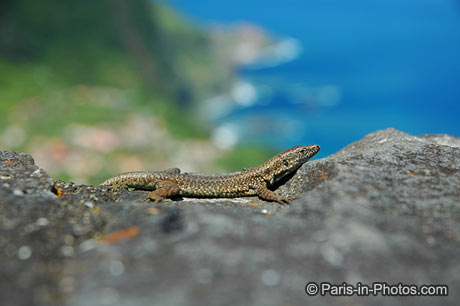 One of the many sun lovin' lizards. Although we have plenty of the critters in France, I never tire of them.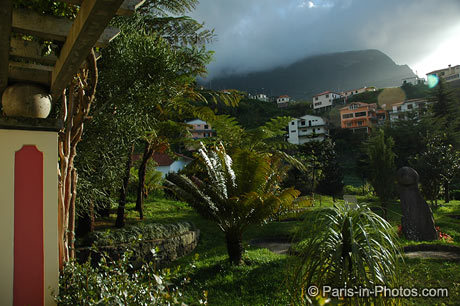 View from our terrace hotel in Boaventura.
Whilst taking a shower here I noticed through the translucency of my shower curtain that I was not alone. A LARGE orange centipede lurked on the other side! I hoped to hell it wasn't going to move, but as the shower started it went on walkabouts all over the curtain and so I freaked out and ran into the bedroom (I'm truly pathetic where insects are involved, but I think big centipedes can bite!). As I stood on the rug next to the bed trying to get my heart rate back down, the bloody thing was on a rampage and having run (with it 100 writhing legs) out of the bathroom it was now on the same rug I was stood upon. A second before it ran across my foot I leapt onto the safety of the bed with my heart in my mouth and it was some time before I could resume that shower.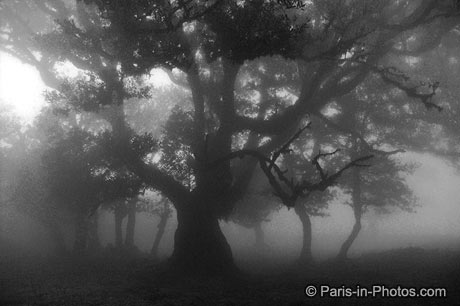 Driving up the road to Paul de Serra, I thought we were going to be stuck in this perpetual (though enchanting) mist, but after a long time we popped out of it and were all of a sudden on a dry, hot plateau, the highest on the island.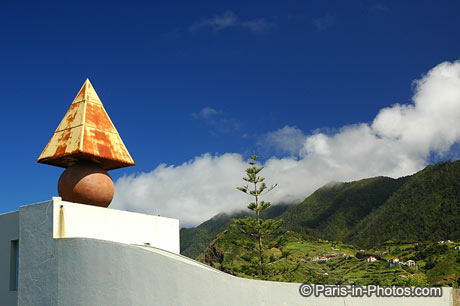 With the island being so far away from any mainland country (I think the closest is Morocco about 400 miles away), I joked about seeing another car without a P (Portuguese) registration plate. I'll be damned if several days into the holiday I don't see a British registration plate with a GB sticker!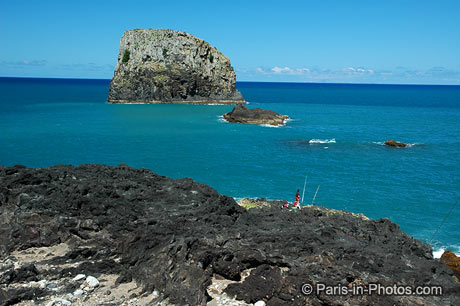 Paradise flower, very typical to Madeira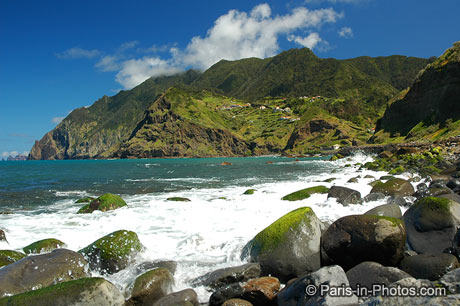 Beautiful spot with cheap drinks and spectacular views.