Whilst Madame Grenouille took care of Bébé Têtard yesterday, I visited the Pompidou Centre in Paris with her opera singer friend, to see Lucian Freud's painting exhibition. Now aged 88 and described as a living master; I'd seen one or two paintings by Sigmund Freud's grandson in the UK, but never so many of his works congregated beneath one roof. At 12 euros a ticket, the entrance isn't cheap (although you could use it to visit the other exhibitions inside the Pompidou Centre), but I was eager to visit, especially having missed J M W Turner's art exhibition at the Grand Palais the other month.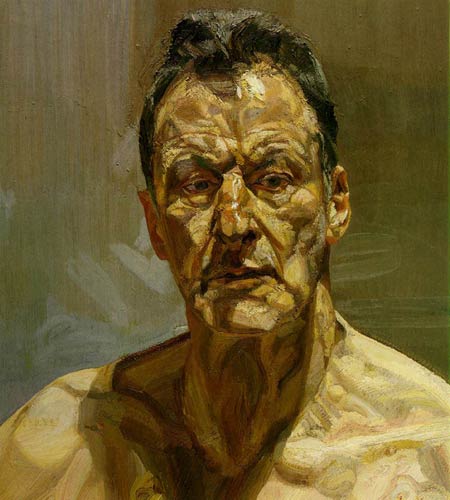 Copyright, Lucian Freud
"They" describe Lucian Freud as one of the most (if not the most) important living masters, but I'm not sure who "they" are supposed to be. I can think of a number of living artists who are arguable better in technique, skill and draftsmanship than Freud, but then the subjective nature of art is a fickle thing. I think where Freud succeeds is in his distinct, intense and personal interpretations of his subjects. Some of the earlier draftsmanship and academic technique of his youth gave way to a different thick impasto style of painting. Some of the first paintings I saw had inaccurate distortions in perspective, but Freud made it work. Rather than a painting that was mechanically correct, the size of the paintings (which can't be appreciated via a book or on the Internet) sucked you in with their warped perspective of everyday items be it a sofa or a plant pot. Some of the anatomy was also out, but give me impasto skin tones over a new breed of artist who meticulously copies all aspects of a photograph, any day of the week.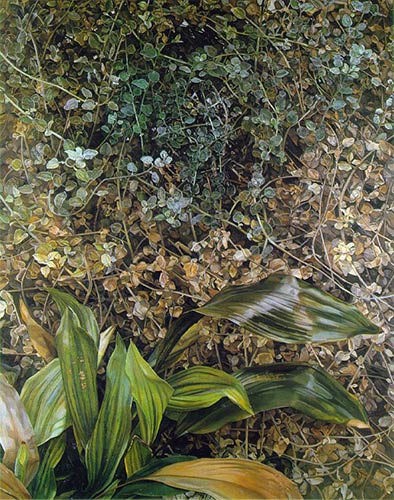 Copyright, Lucian Freud
Lucian Freud himself comes across as bashful and very reticent in actual life, though his paintings certainly do not, and whilst not controversial in an Egon Schiele erotic sense, Freud is in no way conventional. Certainly a worthwhile visit. The exhibition closes on the 19th July.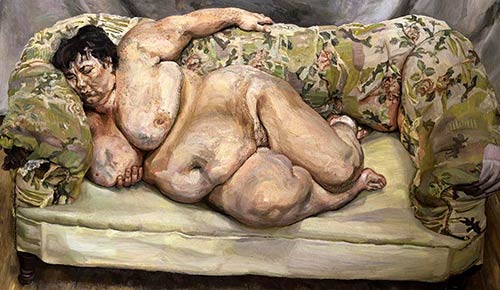 Copyright, Lucian Freud