Popped to the Champs-Élysées this morning to catch a film completely forgetting the Tour de France was finishing there. The road was closed up when I arrived, in preparation for the grand finale.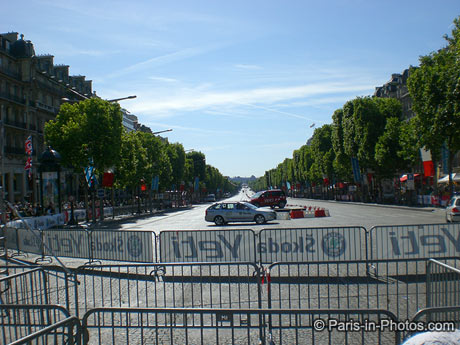 When I turned around to grab a stereotype tourist shot of the Arc de Triumph (as if I didn't already have enough of them), I managed to capture the creme de la creme of Paris tourists; I probably ended up with a better photo of him in mid-pose than his Mrs.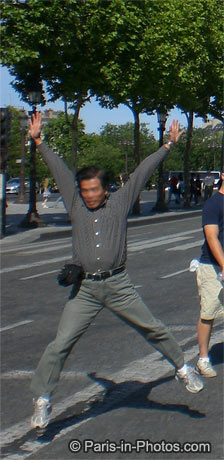 After the film Mme. Grenouille went to buy some new glasses from Grand Optical who say they can have them made and ready to pick up in an hour. Despite she is 8 months and 3 weeks pregnant, they left us hanging around the crowded Champs-Élysées for two hours, before calling and saying sorry, they didn't have the lenses in stock to cut to size. By this time we were hot and fed up with the crowds which had expanded exponentially with each passing minute.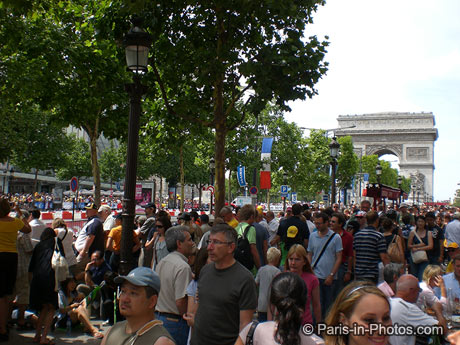 We left about an hour before the leader made his way up to the finish line. On my way home I stopped by the metro station La Muette as a few weeks ago I noticed they were renovating and had demolished the new walls to reveal the old signs and posters, many of which date back to the second world war. Unfortunately I'd left it a little late and the most interesting ones had been removed leaving a mixture of smaller morsels from the 1940's to around the 1970's.
Unfortunately I've had such little time to update my blog on a regular basis, and most likely within a week my life will be a big blur with the arrival of a little demi-froggie!!