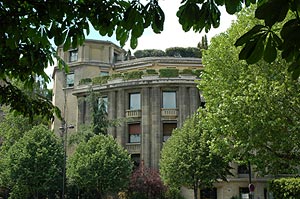 The start of a new month. It also represents the same amount of time the Chambre de Commerce have had my work application for (10-15 days to process they say – ha!) My accountant said he'd chase them up, but I've been 4 days without a word from him. Bienvenue en France! I'm slowly hemorrhaging money and can do very little really without a SIRET number (including opening a business bank account). Okay, that's my little rant over. You read about such problems happening to expatriates, always hopeful that you will be the one who can slip into a country trouble-free, but alas no.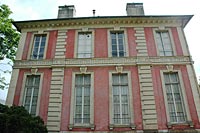 ANYWAY! This afternoon was spent roaming Bois de Boulogne, which is not really too far a walk from the apartment, with some interesting and varied architecture to observe along the way. Despite the forecast for rain, it was a beautiful sunny day, and I felt in my element wondering into relatively dense woodland. In many places, you can escape people altogether, although go too far off the beaten track and the ground becomes a disposal tip for condom packets. The grounds have a seedy reputation at night, but this is a problem in many a city park, and it really feels quite safe by day time. I don't wish to say too much about Bois de Boulogne as it will feature in one of my city guides, but it is probably my favourite of all the Paris parks. I will need to double check my facts, but I seem to recall reading that it is about 2.5 times the size of New York's Central Park, and that one was a fair old size when I once spent a sunny day there.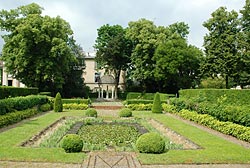 I've visited Bois de Boulogne in the past, and took the cheap ferry out to the little island of the boating lake, where you can sunbathe freely (many French were in bikini's and trunks today); I've even witnessed nude bathing there in the past. The island's home to some cute little bunnies and peacocks, although spring bunnies are also visible in the woods elsewhere. I need to take another visit or two before I can start to put together any sort of guide to Bois de Boulogne, but for anybody reading I'd recommend a visit if you'd like an escape from the city.
After walking the breadth of the park, the cloud swept over with a threat of rain, so in search of the metro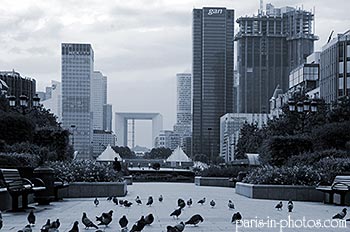 we wondered off into Neuilly-sur-Seine, a district on the opposite side of the park. Affluent is definitely a word to describe this district. A little lost we ended up wandering through an estate with some mighty expensive housing, and ended up in a little park: 'Folie Saint-James' (see photos). It's only worth visiting should you happen to be passing that way, but it was quaint despite the long list of park rules presented on the entrance. In the end we had to ask for directions and arrived at the metro with a nice view of La Défense.