Bercy was the place Parisians came to get merry when once upon a time it stood as a rural village serving cheap intoxicating liquors (untaxed). With time the area turned to squalor until its revival in the 1970's. The dilapidated wine storehouses (chais in French) have been revamped into dedicated commercial shops, and a modern complex/cinema which I sometimes frequent, stands to one end.
I came to Bercy, in the 12th arrondissment, today with Mme Froggy (I swear I'll invent a more creative name when my brain has some rest), to do a little Christmas shopping. She was the one to make the observation that there were many window shoppers, but scarcely anybody with bags full of purchases. It does seem the recession has come to Paris and France as a whole and Parisian's are tightening the purse strings this year.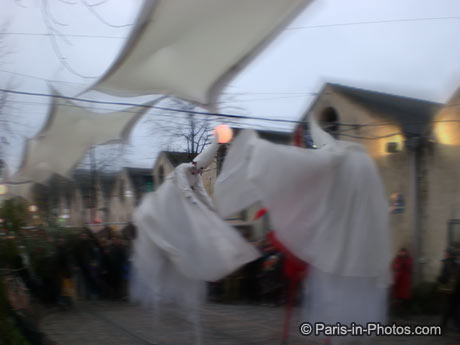 It was nice to see some festive decorations, although the French are far more conservative than the Brits in their luminary pursuits. Along the road some strange paganistic characters on stilts danced over the cobbles, drapes flowing from their arms as they lent over and leered with evil faces at passing shoppers.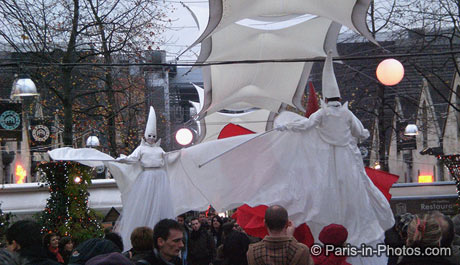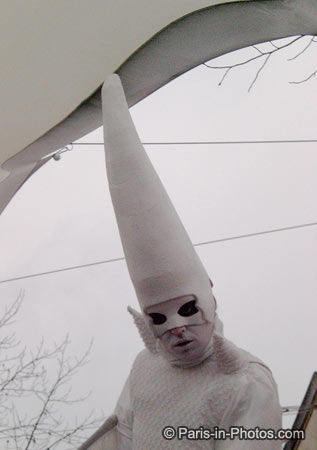 I took refuge in the nearby sweet shop where the various candies and nougats were all home-made in ye olde-styled boxes, but found the prices a little more frightening than what lay outside the door.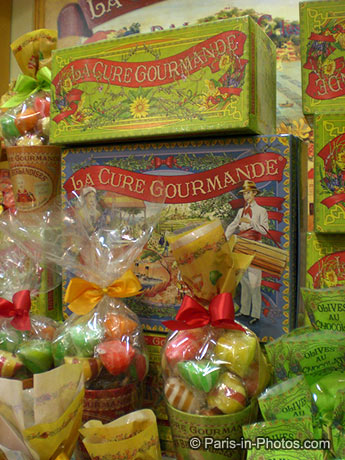 A few shops down is O&Co, mainly dedicated to selling fine olive oils and balsamic vinegar. The staff stand with spoons close at hand so you can try samples of fig vinegar or Moulin de L'Olivette – yum! Many months back we purchased a bottle of Pollichino Olive Oil which we use with cheese, salads and pasta – it's very kind to the taste buds. I tried a cherry vinegar, and told the chap that British cough medicine often had a cherry flavour. Fortunately it didn't quite resemble the same flavour, but was very acidic and sweet.
Right next-door to this pedestrianised shopping centre sits Parc de Bercy, a 173 acre park which is interesting by day, and well, dark by night. I took a quick snapshot of a heron lurking on the pond but I'm still having to 'guess, point, click' with the broken camera. A lone man stood with a laptop watching videos (nearly all the Paris parks have WIFI – it's funny because I hear the French refer to it as 'wiffy' not 'why-thigh'). I was trying to imagine a park in the UK (especially a city park), where you could stand with a laptop in the dark within a secluded park and not get mugged!