Antique Photos: Paris More than 100 years ago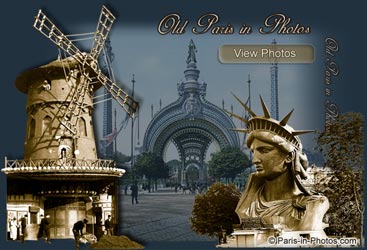 We have featured, around 200 old photos, the majority of which capture the World Fair (
Exposition Universelle
) held in 1900. Many of the constructions and pavilions no longer exist, having been built solely with the exhibition in mind. However the Fair did give rise to
Orsay Museum
,
The Grand Palais
,
Petit Palais
and
Pont Alexandre III
. These antique photos are also available to purchase.

Exclusive - Limited Edition Signed Prints
These beautiful scenes from theare strictly limited to just 50 editions. Each fine art print comes signed by the artist, on an accompanying certificate of authenticity. Click on the button above, or click here for more details and paintings available.
Paris Blog - Day to Day Living
The blog features the adventures and tribulations of an Englishman who has given up life in a little working class town bordering the Saddleworth Hills, and come to France. You can read about the ongoing experiences of how he tries to get to grips with the language, culture and people, along with observations inside the capital.



Contemporary Pictures

Paris Photos

features a modest collection of contemporary images, capturing the romantic spirit of the place, available to view and purchase online.

The capital receives some 30 million foreign visitors each year; the

Eiffel Tower

alone claiming 6 million. The contemporary images capture many of the famous landmarks known to tourists, from the Louvre and its famous

pyramid entrance

, to

Notre Dame

, alongside some of the lesser known places
Click on the banner above to see this sight.
PHOTO TIPS
CITY GUIDE

It is not called the City of Lights without due cause. If you are coming to visit and would like to capture memories with your own camera, a tripod is always handy, as the city springs to life at night. If luggage space or cost is an issue, there is usually a wall or bench you can use to steady your hand. Towards the end of the day, if the clouds are kind enough to part for the sun, the historic Parisian architecture captures a beautiful quality of light and shadow which is worth pursuing.

The

Tour Guide

currently features an inside guide to The Eiffel Tower, Pere Lachaise Cemetery, and one of the Boulogne Parks, home to a small family of Coypu. This insider's guide to the city will continue to grow and expand offering